The Staff

RYAN GILLESPIE, MS
Owner – General Manager
Ryan grew up in the Philadelphia area where sports and exercise was a driving force in his life. Ryan was a multi-sport athlete in soccer, wrestling, and volleyball in high school.
Ryan attended Slippery Rock University and earned his Bachelors and Masters degree in Exercise Science. While in undergrad, Ryan was 3x regional All-American in soccer and captain his junior and senior year. While completing his Masters degree Ryan was the assistant coach for both men's and women's soccer programs. After college, Ryan was a member of the US National Beach Soccer Team from 2004-2006.
Ryan's professional career has spanned over 20 years in health and wellness and helping people and organizations achieve their goals. His experience includes corporate wellness and fitness/recreation facility management for non-profit organizations and universities. Ryan is currently an Adjunct Professor for the Exercise Science Dept. at UNCW and Ryan previously managed and designed award-winning wellness programs for PPD's global headquarters here in Wilmington.
Certifications/Training:
LesMills BodyCombat
Reebok Indoor Cycling
Total Resistance Exercise (TRX) Qualified Suspension Trainer and Rip Trainer
Wellness Council of America (WELCOA) Faculty member – 2014
Office/Lab Ergonomic Training from GSK Occupational Health and Safety
Presentations:
Lower Cape Fear HR Assn. – Tools to Create an Effective Wellness Program – 2015
Southeast Area Health Education Ctr. – The Role of the Employer in Employee Wellness – 2015
Philly-Fit Magazine Festival, awarded Most Athletic Workout – 2011, 2012
Pennsylvania Public Health Association Annual Conference in 1997
---

BRAD HOLLINGSWORTH, CSCS, TSAC-F, USAW, TRX, FMSC
Director of Strength and Conditioning
Brad is originally from Philadelphia, PA.  He attended LaSalle College High School and was involved in multiple sports, including ice hockey, tennis, and crew. He then attended Norwich University on ROTC scholarship but after two semesters decided to leave school to enlist in the Marine Corps.  He spent 4.5 years stationed at Camp Lejeune with 2nd Battalion 2nd Marines.
As an athlete almost all his life Brad has always had a passion for health and exercise, but it was his time in the Marines when he learned its true value.  After exiting the Marines in 2014, Brad decided to pursue a career in the health and fitness field and returned to school at Wake Tech Community College in Raleigh.  In August 2016 Brad moved to Wilmington and transferred to UNCW and in 2018 he received his Bachelors Degree in Exercise Science from UNCW.
Brad's goal is to provide the most comprehensive and results-based programs to the tactical community, including firefighters, law enforcement officers, military and all other first responders.  He plans to train active duty military personnel to extend their operational life and overall performance, to take the best and make them even better.
Certifications:
National Strength & Conditioning Association (NSCA) Certified Strength & Conditioning Specialist (CSCS)
National Strength & Conditioning Association (NSCA) Tactical Strength & Conditioning Facilitator(TSAC-F)
USA Weightlifting (USAW) Level 1 Sports Performance Coach
Functional Movement Screening (FMS) Level 1
Total Resistance Exercise (TRX) Suspension Trainer Qualified, Rip Trainer Qualified
---
Berkley Hall, CSCS, CPT
Assistant Strength and Conditioning Coach
Berkley grew up in Ashland, VA playing soccer and basketball. She earned all conference accolades for her participation in high school soccer, as well as earning many team awards as the starting goalkeeper for Patrick Henry High School. Throughout high school she worked as a coach for Own The Goal, a local company geared towards goalkeeper development.
She attended the University of North Carolina Wilmington, playing D1 soccer as a goalkeeper. After completing her playing career, she developed a passion for weightlifting, fitness, and sports performance. Her Bachelors degree in Exercise Science furthered her passion for weightlifting and performance, giving her an avenue to create a career out of the things she loves. While in undergrad Berkley completed an internship at PEAK under the supervision of Ryan Gillespie and learned many valuable lessons regarding exercise, fitness, athlete development, and coaching as a whole.
Berkley participates in powerlifting, but loves to complete workouts of all kinds to continue improving as a person as well as a coach. No matter what your fitness goals are, Berkley will help you achieve them.
Certifications:
National Strength & Conditioning Association (NSCA) Certified Strength & Conditioning Specialist (CSCS)
National Strength & Conditioning Association (NSCA) Certified Personal Trainer (CPT)
---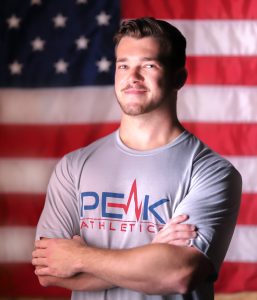 Jake Jones, CSCS, CPT
Assistant Strength and Conditioning Coach
Jake grew up in Rocky Mount, North Carolina and has always been active, even through his childhood. He played several sports, but mainly stuck to baseball and soccer. He played baseball on travel teams, showcase teams, and his high school team at Nash Central High School.
After graduation, Jake went straight to college at the University of North Carolina at Wilmington, to pursue his Bachelor's Degree in Exercise Science. Jake worked as a personal trainer after his freshman year, and got his ACE Personal Training certification, and became one of the head trainers. Soon after, he was involved in research with a fellow trainer and other supervising professors, and showed how passionate he was about health and fitness.
Jake was previously an intern at Peak Athletics over the Spring of 2018 and was brought onto our team after he graduated. He shares our passion for health and fitness, and continues to work to make himself and others better. Soon after graduation he passed his NSCA strength and conditioning certification and plans to work with all athletes, improve their form, and become well-rounded athletes. He also plans on attending Grad School for Athletic Training, to work towards his passion, and continue helping people reach their goals as best as he can!
Certifications:
American Council on Exercise (ACE) Certified Personal Trainer (CPT)
National Strength & Conditioning Association (NSCA) Certified Strength & Conditioning Specialist (CSCS)